Major flooding near Matata in the Bay of Plenty
Photos and video Daniel Hines
Hercules makes emergency landing in Auckland
Video Bradley Ambrose
Flash flooding destroys a road at Pongakawa - Bay of Plenty
Video Daniel Hines
---
Aerial drone filming on the Midland Line South Island NZ 14th June
8 of my latest You Tube videos
---
Pacaya Volcano, Guatemala, in Feb 2016 - click for Pacaya page
---
Trains on the BNSF Transcon, Needles, California - click for more
---
Actsafe Nyiragongo Volcano Expedition 2016 DRC Congo, Africa
Click on above photo for Nyiragongo Expedition photos
---
Volcano Expeditions kicks off in Vanuatu, we are currently taking bookings for Expeditions to
Marum and Benbow Lava Lakes on Ambrym Island, Vanuatu.
Click above image to view the NZ Herald story above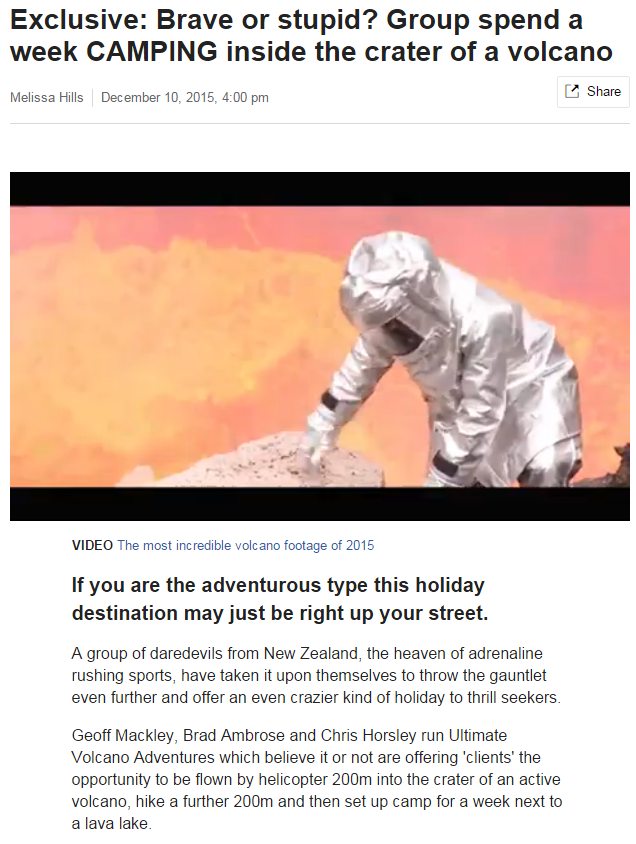 Click on above image to view full story on CH7 Australia
---
Geoff, Brad, and crew feature in the worldwide launch of the GoPro HERO4
---
Erta Ale volcano expedition - Ethiopia - Africa
Click on the photo to go to the Erta Ale page
10kg gas bottle and 25 litre drum of water are dropped into the lava lake with dramatic results
---
Indonesian Volcanoes Expedition 01 - 22 July 2014
Batu Tara - Kawah Ijen - Bromo - Mud volcano, Surabaya - Dukono
Dukono Volcano blows its top metres from us ! Dramatic video
Click on the photo for the Dukono page
Click on the photos below for the rest of the expedition photos and videos for each volcano
: Bromo and Semeru Volcanoes at sunrise
---
June 2014 Actsafe Ambrym expedition - Vanuatu
The adverts we did for the LG G3 4K smartphone.
---
Polar explorers Geoff Mackley and Bradley Ambrose braving the -51 temps in Oymyakon - Siberia - Russian Federation
14th to 19th March 2014 - click for more photos
It is so cold here the flag has frozen solid and can be held up like a wooden board.
MAN truck fun in the South Island high country (click for more photos)
Solar powered railway trolley tested before being taken overseas to abandoned railways
---
RIP Phil Cotter "shags" who died on Friday 26 August 2011 when his helicopter crashed while working on Malakula Island in Vanuatu. Phil has
been involved in every expedition we have made to Vanuatu for the last 14 years and was a truly brilliant pilot. His loss will be greatly missed.
Click here for more photos and video of Phil